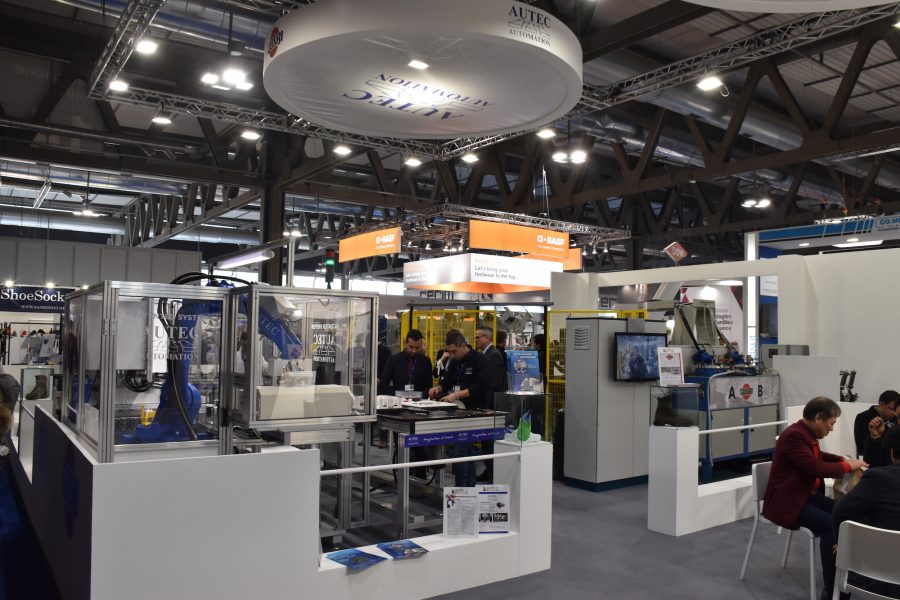 Also this year at SIMAC 2019, AUTEC and GUSBI have enhanced their partnership: strongly integrated solutions for PU shoes.
The AUTEC innovations have been aimed at satisfying the need for productions with increasingly smaller and varied lots through flexible solutions.
AUTEC presented a roughing robot equipped with an automatic tool changer. Depending on the type of upper, in fact, the robot chooses the most appropriate tool based on the type of leather and the model (following the indications in the RFID antennas placed on the conveyor pallet and the shape).
A system configured this way allows, therefore, to provide greater flexibility to the production since it is able to manage with ease even small production batches. And since we are talking about flexibility, AUTEC is also developing a hold system for classic lasts (without metal plate) allowing also shoe manufacturers that prefer cemented constructions to use automated roughing systems. If, in fact, until now roughing machines were oriented to the injection and casting sectors, today AUTEC also thinks about the growing sector of the cemented one. "The most important difficulty to consider – says the company – is the low propensity of customers to change lasts. We are the ones who have to adapt ourselves. Therefore we are developing a system that can center the last according to roughing, with traditional systems".