Combining our experiences in different production fields, we offer innovative solutions to meet the needs of our customers.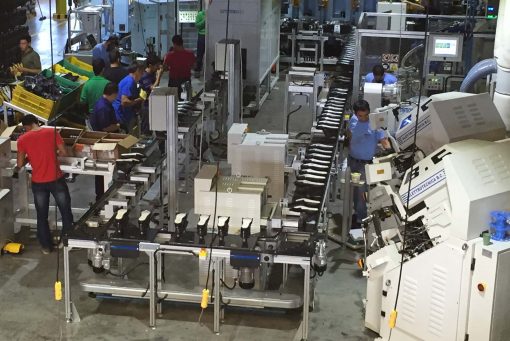 Automated production lines
We study the best production solution and the process layout to meet the needs of our customers.
We realize pallet lines that allow extreme modularity and production flexibility, integrating robotized cells and parts of existing systems.
We develop the software for managing the production process from an Industry 4.0 perspective.
Release agents application
We use anthropomorphic 6 axes robots for the application and distribution of water / solvent-based release agents inside the molds.
We allow to increase the quality of the finished product and to drastically reduce the consumption of release agent. We can apply water / solvent-based release agents or concentrate.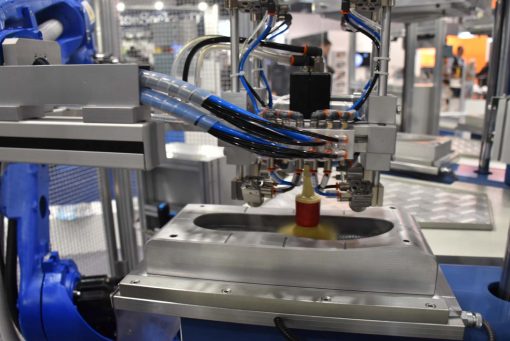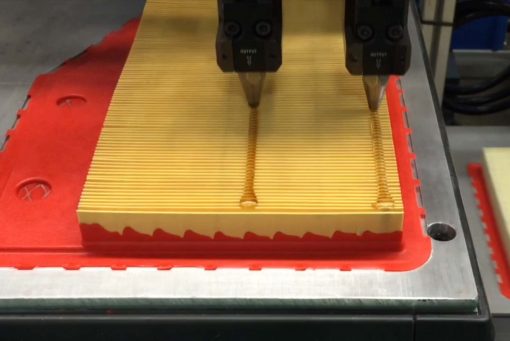 We use anthropomorphic 6 axes robots for a precise application of water or solvent based glues. The constancy of the application speed is decisive for the uniformity of the spray and for the constancy over time of the quality obtained. A reduction in glue consumption is also achieved.
Through the use of anthropomorphic robots we automatically apply the paint on manufactured articles or inside molds (in mold coating), allowing to obtain high quality products with considerable paint savings.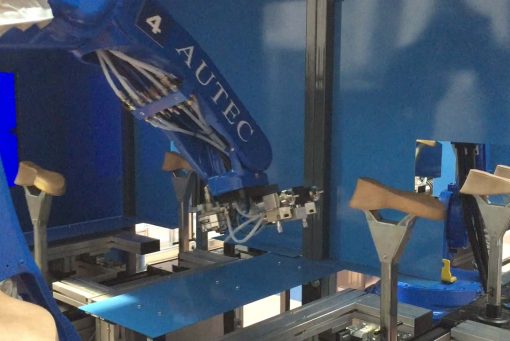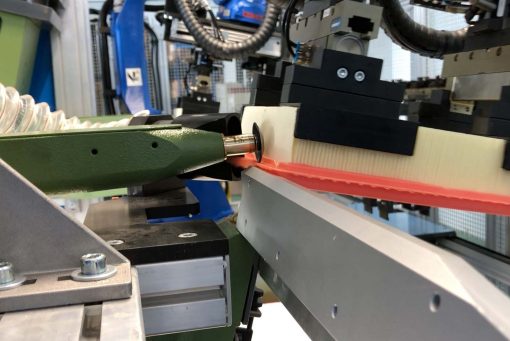 Through the use of anthropomorphic robots we automatically trim the smudges of PU products such as soles or external parts of car air filters with absolute precision and reliability.
Automatic transport systems
Conveyor belts or pallet lines are the solutions for an automated and programmed transport of semi-finished and / or finished products.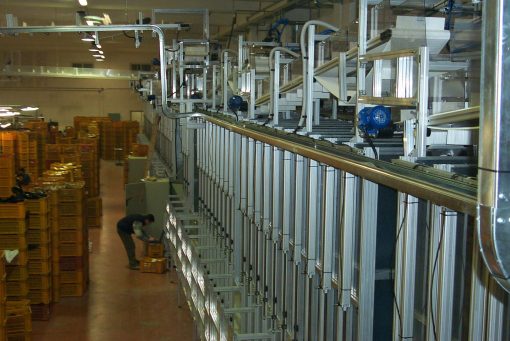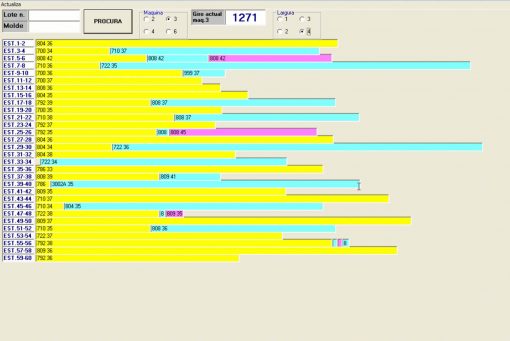 Production management software
We develop customized production management software for customers who have robots and production lines.
Starting from a production plan coming from the ERP software, we offer a management system that integrates plant and office, which allows to:
automatically program the rotary tables and the robots based on the production plan received as input;
have an up-to-date online situation about production;
have a report for each shift / working day with information about:

quantity of pieces produced;
date and time in which each mold entered production,
date and time in which each mold went out of production;
when the rotary table was stopped;
rotary table speed during the day.

have support for production planning, suggesting the best slot available for the insertion of new production lots on the rotary tables.
Off-line and user-friendly programming
We firmly believe that robot programming must take place offline, without the interruption of production, and that it can also be performed by operators with little experience.
Through the use of a Microscribe or a tracer point, we allow to program in a simple and fast way any profile that the tool of the robot must follow. The software developed by Autec, using powerful calculation algorithms, allows to extract from the point cloud only the significant ones, thickening the points along the curves (where greater precision is required). The number of total points making up the trajectory can be set by the operator.